FCS Financial, Farm Credit of Illinois, AgriBank and CoBank Contribute $100,000 to Fund Hands-On Learning for Museum Visitors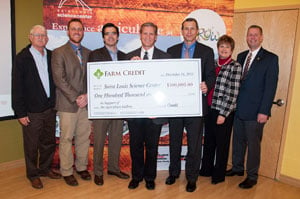 FCS Financial joined three other regional Farm Credit System institutions to support the Saint Louis Science Center's new Agriculture Exhibit, GROW. Together, FCS Financial, Farm Credit of Illinois, AgriBank and CoBank will contribute $100,000 to the effort, funding a series of activity tables and raised planter beds in the exhibit's DIY Farming area.
Through interactive displays and hands-on activities, GROW will engage visitors in the science and technology behind food production, from farm to fork.  In addition, it will highlight the challenges the world faces in developing food production systems capable of feeding an ever-increasing global population. Farm Credit is a national network of lending institutions specializing in providing financial services to farmers, ranchers, cooperatives and other rural borrowers.
"The U.S. has the most efficient and productive agricultural economy in the world," said David Janish, CEO, FCS Financial. "But the future success of agriculture is dependent on our ability to educate and engage today's youth, helping to turn them into tomorrow's agricultural leaders. The new GROW exhibit at the Saint Louis Science Center will help to do just that and we at Farm Credit are extremely proud to be a part of the effort."
GROW is expected to launch in summer 2016 and will feature more than 40 exhibits highlighting food production, agricultural technology, water conservation and the inner workings of plants.  The DIY Farming area will offer a hands-on learning space where both children and adults can experience planting demonstrations and tutorials and participate in activities that will teach them to create their own backyard, roof-top or in-home gardens. Activities and topics featured in the DIY Farming area will rotate, so that visitors can learn about new topics and gain new skills each time they visit the Science Center.
"We are so grateful to our Farm Credit partners for their enthusiastic support of the Saint Louis Science Center and GROW," said Bert Vescolani, president and CEO of the Saint Louis Science Center. "Their passion for supporting farming and rural communities is something our organizations have in common and we look forward to working together to ensure GROW successfully connects each of our visitors to the farming community around us and helps them to understand the critical role agriculture plays in the United States and around the world."
Pictured from L to R
:
Maurice Glosemeyer
, FCS Financial Board Member;
Adam Jones
, CoBank;
Peter Rudeen
, AgriBank;
David Janish
, FCS Financial CEO;
Bert Vescolani
, Saint Louis Science Center;
Brett Challenger
, CoBank;
Karen Neff
, Farm Credit Illinois Board Chair; and
Rod Stoll
, Farm Credit Illinois.